OnTrack Sports - Next to Tarrytown Train Station
Oct 15, 2009
8 AM - 9:30 AM
Search Our Site
The Legend of Sleepy Hollow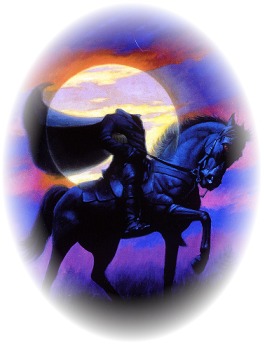 Illustration by Michael Garland © 1993
Washington Irving wrote of a little valley, an enchanted region, known as Sleepy Hollow. It was a place where you could hear astonishing tales ... of ghosts and goblins, of haunted fields and brooks and bridges, and, in particular, of a terrible Headless Horseman who raced along dark roads in the dead of night.
Into this drowsy village, where marvelous beliefs were commonplace and apparitions everyday affairs, moved Ichabod Crane. Gawky and gangling, Ichabod soon became enamored of a local lass, the beautiful Katrina Van Tassel. Unfortunately, Ichabod had a formidable rival for Katrina's love -- handsome, broad-shouldered Brom Bones. Brom, who had a reputation for mischief-making and a love of practical jokes, did not look kindly upon this scarecrow-like suitor of Katrina's.
One evening in autumn, when shadows gathered early, Ichabod, on a borrowed horse as skinny as himself, set off for a party at the Van Tassels' house. After dining and dancing, as was the custom of the time, story-telling began, and as in any area rich in legends and superstitions, the tales told were wild and wonderful. Some folks spoke of strange cries heard around the great tree where the British spy Major Andre was captured. Others told of a woman in white who perished in a winter storm and now forever roamed the countryside.
Chief among the stories, though, was that grim specter of Sleepy Hollow, the Headless Horseman. This demon, they said, tethered his horse nightly in the graveyard of the Old Dutch Church. An ancient wooden bridge near the church was said to be one of the favorite haunts of this fear- some apparition and the place where he was most frequently encountered.
Brom Bones himself told of a meeting he had had with the ghost, racing his horse against that of the ghost's until, at the church bridge, the Horseman turned, vanishing in a flash of fire. It was at the very witching time of night that a fearful Ichabod headed homeward. The hour was as dismal as his own thoughts; all the stories of ghosts and goblins that he had heard.